Our Miniature Check Valves - Part Number Identifier
Part Number | Valve Material | Spring Material | Cracking Pressure | Seal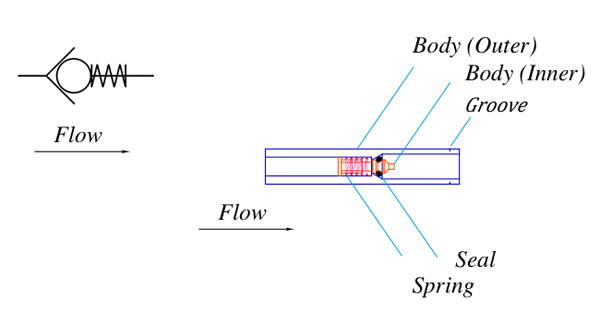 Useful documents
How do they work?
Our miniature spring loaded check valve is usually installed in-line. The valve body is hollow. This body has a cross-sectional element, the seat, with a passage or hole through it. This passage is oriented across the flow through the valve. The valve seat divides the valve into upstream (inlet) and downstream (outlet) sides. A poppet (body inner) rests inside the valve and can move so that one of its surfaces, the sealing surface, can rest against the valve seat. The spring's position applies a constant pressure holding the valve sealing surfaces together. Because check valves provide one-way flow, it is important to install them in the correct linear orientation. All our miniature check valves have a groove on the outside of the outer tube. The direction of flow is in the direction of the groove.
What characterizes our miniature check valves?
Our miniature check valves are high quality products. Miniature check valve components are made using CNC machines from a wide range of corrosion resilient materials. Each valve is assembled by hand and tested at our premises prior to shipping. Due to the wide range of combinations, they are manufactured to order.
Identifying our miniature check valves
Our miniature check valves are identified as follows:
Part number | Body material | Spring Material | Cracking Pressure (bar gauge) | Seal
Part number – characterises the type of the valve for example:
11740 – is check valve with a ¼"OD tubular geometry
12130 – is check valve with a 1/8"OD tubular geometry
Body material is the material for both other and inner components for example:
316 – 316 Stainless Steel
C276 – Alloy C276, commonly know as Hastelloy C276.
Spring material is for example:
316 – 316 Stainless Steel
C276– Alloy C276, commonly know as Hastelloy C276.
Cracking pressure (bar gauge) is the minimum upstream pressure when a normally closed check valve begins to open for example
The Seal – Elastomeric material provides a leak tight seal for example:
FKM, fluoropolymer elastomer commonly know has Viton
FFKM, Perfluoroelastomer commonly know as Kalez
EPDM, ethylene propylene diene monomer, a synthetic elastomer
Chemical compatibility charts may be downloaded from our website.
What are the typical uses for a Tadpole check valve?
Air, gas and fluid flow control applications
Protect equipment from backflow damage
Provide pressure relief for system safety
Prevent contamination from reverse flow
What are the benefits of a spring loaded valve?
Designed to be normally closed.
Provides quick interruption of flow
Provides positive sealing at pressures below the cracking pressure of the valve
Does not require gravity or backflow pressure to work or actuate
Provides positive valve closure regardless of vertical orientation
Prevents system fluid or gas backflow during routine maintenance
Springs can accommodate very wide temperature ranges
What is the cracking pressure of a check valve?
Cracking pressure is the minimum upstream pressure when a normally closed check valve begins to open and flow starts. It is possible to design very precise spring pressures and so it is usually possible to find miniature spring loaded check valves made with particular cracking pressures to meet specific application criteria.
What should I consider before selecting a miniature check valves?
Operating environment
Operating temperatures
Materials (chemical compatibility)
Minimum cracking pressure
How quickly the check valve closes
End connection options
Pressure drop across the valve when completely open
The type of gases or liquids (media) being used
Media viscosity
Flow conditions such as low flow or low pressure
Do you have a warranty?
Cambridge Reactor Design Ltd warrants that the goods supplied will be free from defects in material and workmanship for one year. For our warrant terms, please refer to our document Miniature Check Valves Warranty_V2.pdf
What about CE marking and the pressure equipment directive?
All miniature valves are constructed using Sound Engineering Practice and therefore do not require a CE Mark. Please refer to our CE Marking document for more information. CE Mark document